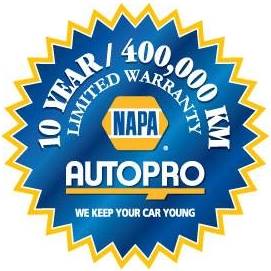 Napa AUTOPRO Warranty
We are a network of more than 600 service locations across Canada with thousands of certified and licenced automotive technicians. With access to the latest diagnostic equipment and quality parts, we are dedicated to the proper servicing of your vehicle.
You get 24 months/40,000 kilometres of worry-free protection on qualifying parts and labour when originally performed at Henry's NAPA AUTOPRO. This written warranty will be honoured at over 17,000 authorized NAPA Warranty Centres across North America.
Your Peace of Mind Limited Warranty covers parts and labour for the repairs and certain services for 24 months or 40,000 kilometres, whichever comes first.
10/400 maintenance warranty
A no-charge 10 year/400,000 km limited warranty covering the repair or replacement of critical engine components, including your transmission or transaxle, when you have regular and continuous service maintenance and repairs performed at Henry's NAPA AUTOPRO facility in Canada.